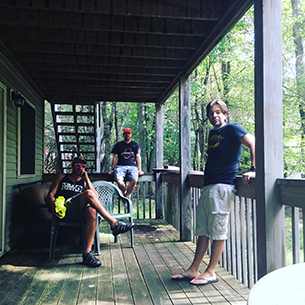 FRANK's new record, 'Dreams and Fears of the Outside,' is reflective of our collective experience this past year, from uncertainty, darkness and isolation to hope, perseverance and "fuck it let's party". With the limitations of physical separation, FRANK saw an opportunity to explore new ways of writing. The result is an album that has changed FRANK's approach to how they perform and write as a band, and they will never be the same. From the contemplative nature of the bookends of "The Confusion" and "Today" to the hopeful anthem of "Naive", the band takes us through all of the emotions that we felt during 2020.
The making of 'Dreams and Fears' was a way for the members of FRANK to cope with the ups and downs of the last year. They came out of the other side with a collection of songs that take the listener back to a more uncertain time, but bring about a feeling of hope when you're through.
"New York (How I Feel)" is the first single from the album, accompanied by a joyous and hopeful video featuring the band along with friends and family. This song, featuring drummer Christian Linsey on vocals and two basslines by Billy Ziff, brings dance vibes of LCD Soundsystem with catchy hooks of your favorite 80s anthem.
FRANK is a shape-shifting trio who deliver honest music that moves from deep grooves to punk rock, acid jams to heart-breaking folk. FRANK fans appreciate the band's no-bullshit attitude, obsessive love for music, and perseverance as artists for over 20 years in New York City.
Press
NYS Music: Hearing Aide Dreams and Fears of the Outside
Bubbling Box, Inside the Bubble: Exclusive Interview with FRANK (NYC Band)